WWTc Rescue Rope Craft 23 and 27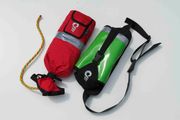 Craft 23m/9mm 
Construction: 9.3mm 23m (cca 3/8inch 75feet) floating rope
core: Polypropylene
Cover: Polypropylene/Polyester
Tensile Strength: cca. 21 kN/ 4600lb (2100kg)
Knotted Tensile Strength: cca. 11.5 kN/2500lb (1150kg)
Weight: 1230g / 1530g incl. waist carry system
For those who like thicker ropes, but do not want it too long.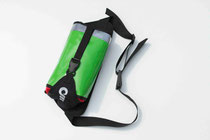 Designed for Rafters and Crafters
- The biggest, longest and toughest of the WWTC Rescue Rope range. Mainly for equipment rescue. You can place your rope with the belt carry system around the thwart in the raft or even put it on your waist in case you want. Though a bit heavy to run and swim with regularly.
Recommended for all raft guides and rescue teams.
Just for horizontal use! No Vertical Rescue!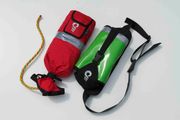 Craft 27m/9mm
Construction: 9.3mm 27m (cca 3/8inch 88 feet) floating rope
core: Polypropylene
Cover: Polypropylene/Polyester
Tensile Strength: cca. 21 kN/ 4600lb (2100kg)
Knotted Tensile Strength: cca. 11.5 kN/2500lb (1150kg)
Weight: 1400g / 1700g incl. waist carry system
Craft Custom
Custom made solutions available regarding length and rope type.
You can fit in the bag up to 50m of WWTC 8mm rope or 35m of WWTC 9mm rope.