WWTc Rescue Rope
- The ultimate throwbag -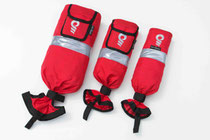 The story on these throwbags is the following:
It`s been quite some research I had to do on the market to find the right and desired tool I needed for my work. It wasn`t too long ago when I realised that what I really needed did actually not exist on the market, therefore I decided to do a proper new product development myself. I spent countless hours and days on testing and shaping the right throwbag, even went into deep details on the rope-waving possibilities while in the development period.
I personally believe that I did this right and did it not only for my own pleasure but for all of your benefits!
Hopefully a lot of you will soon find out about the benefits these throwbags have to offer for you. 
These Rescue Ropes are specially designed for Whitewater use!
Always practice with your rope enough, so that you can use it with experience when in real need!
A rope is always a hazard on whitewater so limit its usage for the real need!